ANNOUNCEMENTS
CHILDREN'S AREA NOW OPEN!
The wait is over! Our new children's area is now open. Want to see more? Visit our VIRTUAL TOUR page.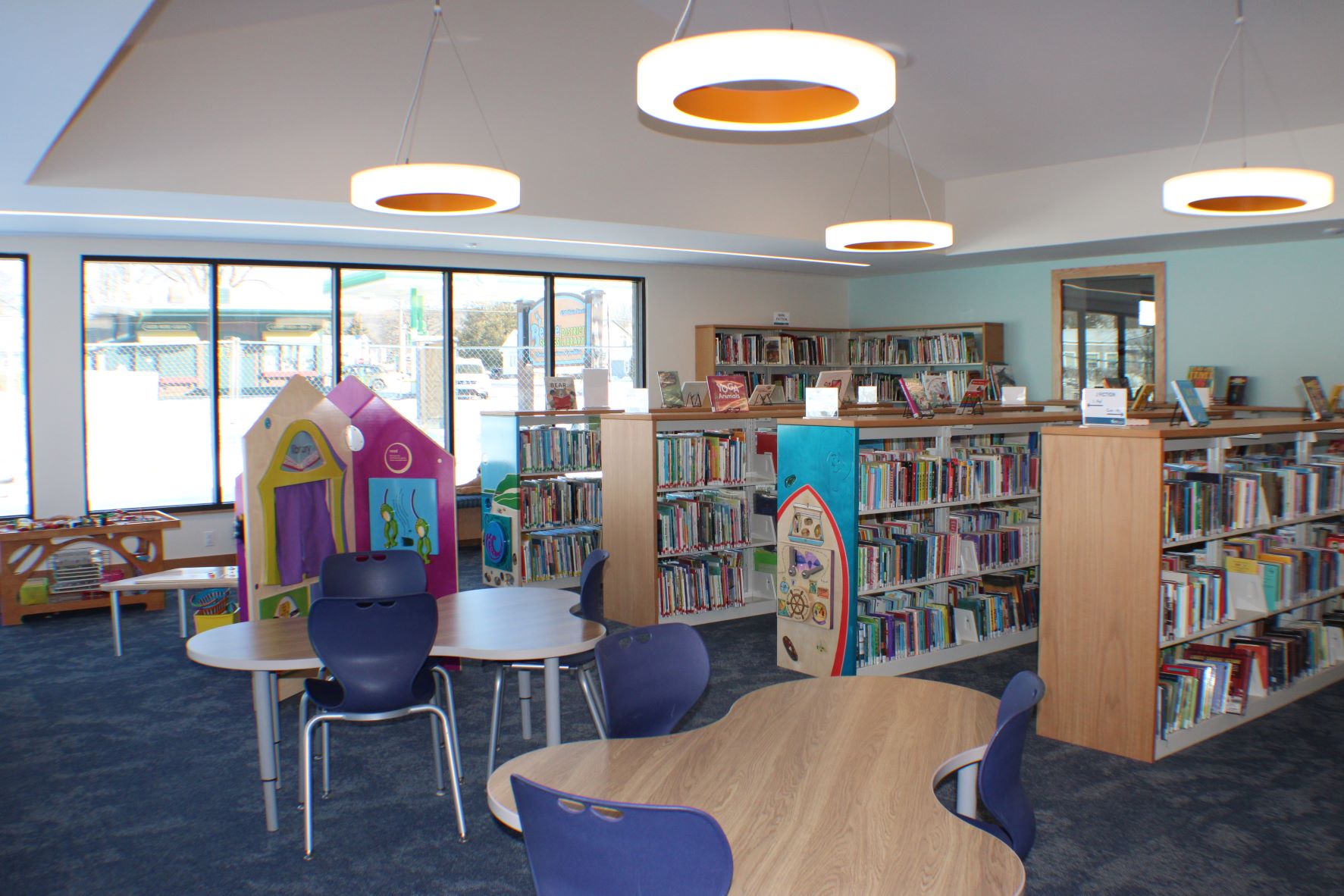 LIBRARY PROGRAMS

BOOK BINGO
ALL MONTH LONG
Download a bingo card or pick one up at the Library. Complete 5 book bingo activities in a row (vertical, horizontal or diagonal) and reach BINGO! Give your completed bingo card to library staff to be entered into a drawing for one of several prizes. All ages can play!
BSDL Spring Book Bingo for Adults
BSDL Spring Book Bingo for Kids
CIRCLE TIME FOR BABIES AND TODDLERS
Mondays at 10:30 a.m.
Infants and toddlers and their parents/caregivers will have fun rhyming and moving! With a focus on repetition, each week children build their repertoire of rhymes both old and new! There is an informal playgroup following Circle Time.
TECH TUESDAYS
Tuesdays 10:30 AM to noon
Need some help using the library's digital services? Have a tech issue giving you some grief? The library offers one on one basic tech help on Tuesdays from 10:30 a.m. to noon.

FANTASY CHARACTER CREATOR WORKSHOP
Tuesday May 17th at 3:30 p.m.
Wizards, Detectives, and Cyberpunks— Oh My! Table top role playing games have never been more popular, and half the fun is figuring out who you want to be! Join us as we walk you through creating your own alter-ego in some of the most popular fantasy games. Great for beginners, writers and curious creatives. Intended for ages 13 and up.
BOOK SHARE
Wednesday, May 18th at 10:00 AM
Join us for a cup of coffee or tea and talk about books. Share what you have read recently and find out what fellow community members have been reading. This is a great way to discover new books!
SATURDAY STORY TIME
Saturday, May 21st at 10:30 AM
Join us for a special story time! ay is Mental Health Awareness Month. Join us for our May story time all about big emotions and how to handle them. We will sing songs, read stories, and make a "calm down" sensory craft.
This program is intended for pre-school and school age children.
JOURNALING WORKSHOP
Tuesday, May 24th at 6 p.m.
Do you keep a journal, or have you ever wanted to start? Journaling is a great way to organize your thoughts and express yourself. In this program we will explore writing prompts, bullet journaling, and the benefits of putting pen to paper! This program is intended for adults, but all writers are welcome.


CRAFTERNOON MOVIE
Fridays at 3:00 p.m., beginning June 17th
Like movies but can't sit still? Do you like to talk during movies? Join us on Friday afternoons for a movie in our program room. We'll have tables available for crafting, coloring, needlework, etc. Bring your own project or get creative with the Library's craft and coloring supplies.


OPEN BUILD
Tuesdays at 1:00 p.m., beginning June 14th
Lego and MagnaTiles and more. You provide the creativity and the Library will provide the bricks. For ages 5+. Children age 8 and under must have an adult present.

CUBING CLUB
Third Thursday of the month at 3:30 p.m. (June 16, July 21, & Aug 18)
Learn tricks and tips to solve Rubik's most famous puzzle. Cubes will be provided while supplies last. Registration recommended but not required. Registration begins June 10th. For ages 8 and up.
---

AFTER HOURS PICK-UP
We have outdoor lockers for 24/7 materials access! This service is made possible by the Friends of Benzie Shores District Library. Thank you Friends!
We have 10 Outdoor Lockers for contactless curbside access. To get started, place items on reserve from our catalog and set your pick up method to "lockers". Please give us at least 4 business hours to get your items ready for you. You will be notified once your materials are ready.
Not sure what you want or need help placing a reserve? Call us at 231-352-4671 and we are happy to help! Or use our handy INSTRUCTION sheet to get started.

---

WIFI ACCESS
The library has work/reading space inside the library and library WiFi is accessible in the library parking lot and patio. We also have hot spots and Chromebooks available for check out. Chromebooks and Hotspots may be borrowed for 7 days. Out of district residents are not eligible to check out devices. Contact us for more information and availability.
---
BSDL BOARD MEETINGS
NOTICE OF PUBLIC HEARING
Benzie Shores District Library
County of Benzie, Michigan
630 Main St., Frankfort, MI 49635
ON THE ADOPTION OF THE BUDGET
FOR THE FISCAL YEAR 2022-2023

TO ALL INTERESTED PERSONS IN THE LIBRARY DISTRICT OF THE BENZIE SHORES DISTRICT LIBRARY
PLEASE TAKE NOTICE that the Board of Trustees of the Benzie Shores District Library, County of Benzie, Michigan, will hold a public hearing on Monday, May 16, 2022, 9:30 a.m. at the BSDL to consider the approval and adoption of the operating budget of the Benzie Shores District Library for the fiscal year 2022-2023.
Copies of the proposed budget will be available at www.benzieshoreslibrary.org after 12:00 p.m., May 10, 2022. At the public hearing, all citizens, taxpayers and property owners of the Benzie Shores District Library District, comprised of the City of Frankfort, the Township of Blaine, the Township of Crystal Lake, the Township of Gilmore (including the Village of Elberta), and the Frankfort-Elberta Area School District portion of the Township of Lake, shall be afforded an opportunity to be heard in regard to the approval of the budget.
THE PROPERTY TAX MILLAGE RATE PROPOSED TO BE LEVIED TO SUPPORT THE PROPOSED BUDGET WILL BE A SUBJECT OF THIS HEARING. This notice is given by order of the Board of Trustees of the Benzie Shores District Library, County of Benzie, Michigan.
Signed by Secretary
Virginia Hollister Freeman
Any citizen requesting accommodation to attend this meeting or to obtain this notice in alternate formats please contact Stacy Pasche, Library Director, at 231-352-4671.
BSDL BOARD MEETING
Monday, May 16th at 9:30 a.m.
The board meets the 3rd Monday of each month at 9:30 a.m. at the library. Please contact the library at bsdl@benzieshoreslibrary.org or 231-352-4671 if special accommodations are needed, or if you would like a board packet. The meeting is open to the public.
---
Mission Statement: Our mission is to provide educational, informational, intellectual and recreational library resources to our communities and visitors.