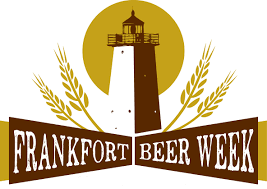 BEER AND BOOK PAIRINGS FROM BSDL
As part of the Frankfort Beer Week Celebrations (October 2-7, 2023), our Librarians sampled local (and some not so local) brews to create this beer and book pairing list for your enjoyment. Visit https://www.frankfortbeerweek.com/ for a schedule of Beer Week events and for more information about this annual hoppy event.
Stop by the Library for a special Beer Week bookmark while supplies last!

Bell's Two Hearted Ale
American IPA
Named after the fishing waters in the UP. We'd be remiss if we didn't suggest Hemingway's Nick Adams stories, also inspired by these waters. Hemingway's writing has been described as "easy to imitate, difficult to match." We could say the same of this brew.
Old Style by G. Heilemann Brewing (now Pabst)
American Adjunct Lager
Reliable and always there. If it's cold enough, it's good enough. Try a John Grisham or James Patterson book. Like Old Style, their books are fully kraeusened.
B., Sirius Dubbel by Stormcloud Brewing
Belgian Dubbel
This has notes of stone fruit and raisin, perfect for a Stephanie Plum or Agatha Raisin mystery. Any mystery book really, because it is a mystery to us why anyone would put fruit in beer, and a bigger mystery is why it works.
Perrin Brewing Black Ale
Black IPA
This brew looks dark but has a deceptively light, nuanced flavor. Same could be said for Jeannette McCurdy's bestseller, "I'm Glad my Mom Died."
Founders KBS Stout
Bourbon Barrel-Aged Chocolate Coffee Stout
Like a Richard Scary Busytown book, there's a lot going on in this beer. Though 12% ABV may make finding Goldbug a little difficult. Do not drive a pickle car after a KBS!
Buenaveza Salt & Lime Lager by Stone Brewing
American Lager
The wheaty finish of this brew gives off a faint taste of cereal- in a good way. Pairs nicely with "Breakfast of Champions" by Kurt Vonnegut
Negra Modelo
Munich Dunkel
What is that familiar flavor we can't identify? Is it candy wrapped in the fear of our inevitable mortality, or is that anise? Try this with Silvia Moreno-Garcia's gothic thriller, "Mexican Gothic."
Cliff's Last Call by Brose Brewing (St. Ambrose)
American Blonde Ale
This citrusy summer beer tastes of beach vibes and good times. Transport yourself into a sunny daze by pairing with the comedic stylings of Carl Hiaasen or Dave Barry.
One String Puppet by Stormcloud Brewing
Hazy IPA
Skunky, funky and just right. The perfect companion for "Nothin' but a Good Time: the un­cen­sored his­to­ry of the '80s hard rock­ ­ex­plo­sion" by Tom Beaujour and Richard Bienstock.
---